Pipe Spool
Customers
MATERIAL & WPS
CARBON STEEL
COPPER
ALLOY
SUS & SUPPER DUPLES
Double Pipe
Why Double Wall Pipe?
To Prevent Leakage
Double wall piping systems consist of pipes within pipes and are designed to prevent releases into the environment by containing leaked fuel in the interstitial space created between the two walls of the pipe.
Ventilation
The pressure in the intervening space is below that of the engine room and fan motors are placed outside the ventilation ducts, and the fan material must be manu factured from spark-free material. The ventilation inlet air must be taken from a gas-safe area. The double wall piping system is designed so that every part is ventilated. However, tiny volumes around the gas injection valves in the cylinder cover are not ventilated by flowing air for practical reasons. small clearances, blind ends, etc. cannot be avoided, but the amount of gas is negligible. Any other gas leakage are led to the ventilated part of the double wall piping system and detected by the HC sensors.
High Pressure Piping
Gas is led to the engine in a double wall pipe. The inner pipe is certified to 1.5 times the operation pressure, and the thickness of the outer pipe is sized to take 1.5 times the rupture pressure of the inner pipe. In case of a leak in the inner pipe, on-line hydrocarbon detectors cause the system to immediately revert to fuel operation, and the system lines purged of gas by nitrogen. The gas pipes on the engine are designed for 50% higher pressure than the normal working pressure, and are supported so as to avoid mechanical vibrations.
DWP of LNG Fuel Supply System

Composition
Evaluation of Safety
Conditions
- Heat Load
We applied 50˚C to the inner side of inner piping, and 40˚C to the inner side of outer piping.
- Pressure-Resident
We applied the pressure of 450 bar to the inner piping and 174 bar to the inner side of outer piping.
- Impact
We applied the impact of 1200kgf to the specific part of outer piping.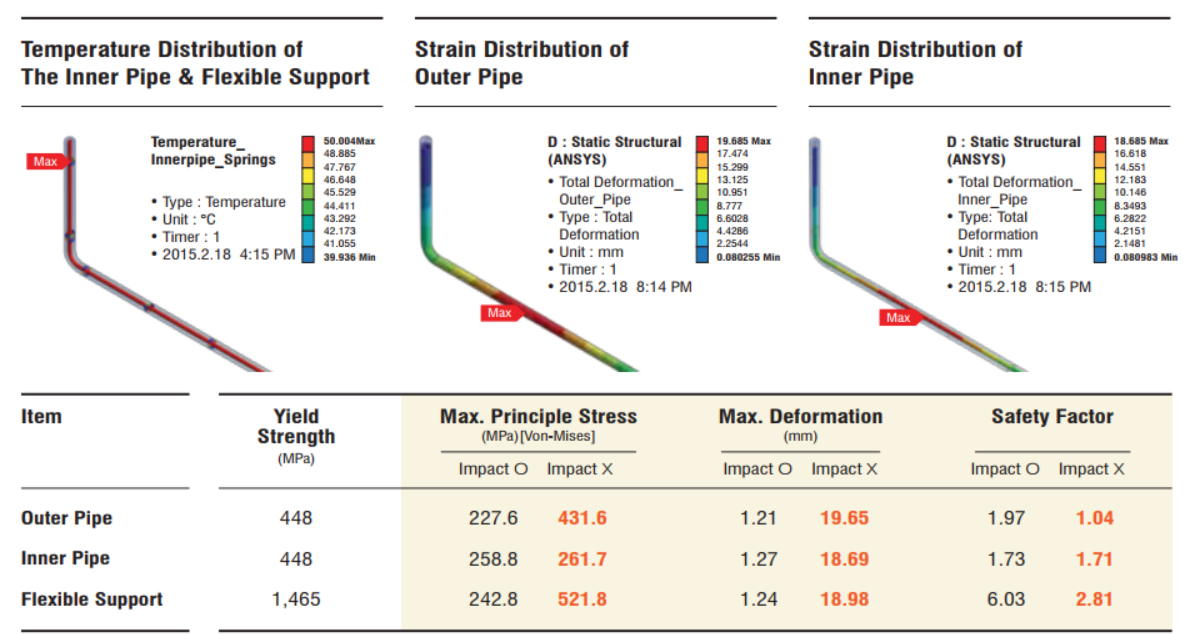 SCRUBBER STACK